CELEBRATING 25/20
July 8 - August 26, 2006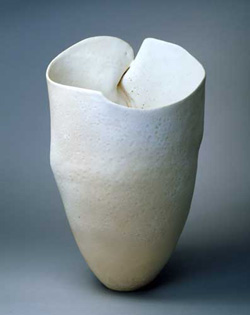 This summer Bellas Artes will celebrate its 25th anniversary. To mark the occasion, the owners and directors of the gallery, Charlotte and Bob Kornstein will honor their mentor, textile designer, author, curator, and collector Jack Lenor Larsen. The gallery also will host an exhibition of work by three renowned artists whom Larsen introduced to the Kornsteins in 1986 in the first of five exhibitions he curated for them. These artists, Olga de Amaral, Richard DeVore and Ruth Duckworth, have been an integral part of the gallery ever since. Their work is included in prestigious collections throughout the world, including those of The Art Institute of Chicago, Metropolitan Museum of Art and Museum of Modern Art in New York, Victoria and Albert Museum, London and National Museum of Modern Art, Kyoto.
Although each artist will be featured separately in his or her own space, a common sensibility revealing a sense of beauty, spirituality and timelessness will be apparent throughout the gallery. Unbeknownst to each other, the artists have chosen to create works in white, instilling a sense of serenity in the intimate spaces of the gallery. White catches light and reflects it, sculpting form and enhancing surface relationships with depth and mystery. Since each of the artists is inspired by nature, working in an all white palette will provide abstract reflections on the sensuality of the natural world and capture the soul of man's exterior and interior landscapes.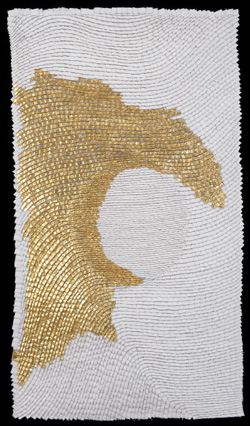 Art historian Twylene Moyer writes that an architectural tapestry of Colombian artist Olga de Amaral "transforms the irregular beauties of the natural world into ideal form. She finds inspiration in the broken textures and movements of the landscape surrounding her home in Bogota...transfiguring the presence of light. In her work symmetrical perfection and geometric rigor exist in tension with the free play of color and optical effects. From the steady rhythms and repetitions of the grid, shapes and patterns emerge, breaking loose from their structural mooring to float in shifting fields of overlays. Light seems to emanate from the tapestries, sparking and fading in a continuous flicker across the surface. What we see one moment changes the next - an organic mutation of form into form."
Primarily known for her work in linen fibers and gold leaf, de Amaral will be introducing geometrical volumes created with white rice paper. Feeling that white has the same resonance as a line, the artist is seeking to create a weightless edge that becomes a thread or a line of pencil or ink that evokes an undefinable presence like water or air.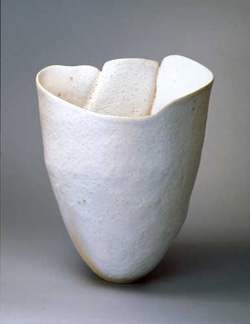 "An organic mutation of form into form" is also present in the ceramic vessels of Richard DeVore. Art in America senior editor Janet Koplos writes, "DeVore's works are perfectly poised between suggesting body and suggesting landscape. They are so persuasive in both those directions that it is impossible to conclude that he means one or the other. Rim or wall or interior may seem to describe topography, particularly wind-eroded stone and parched clay. But just as much these features evoke irregular contours of real bodies, with sags and creases and dimples as well as more erotically suggestive clefts, holes and swells...His surfaces are usually dry, often crackled, like the Western landscape...But still the body is simultaneously present...Flesh and earth are our internal and external natural environments and are so crucial to life that mere reference to them makes a statement of basic issues, basic values."
DeVore explains the vessels he will be presenting. "In concert these particular white pieces create a varied shape, tonal and textural environment that I find sensually stimulating. I think each pot emphatically retains its individual aesthetic integrity while simultaneously inviting a variety of subtle contrasting moods within the gallery."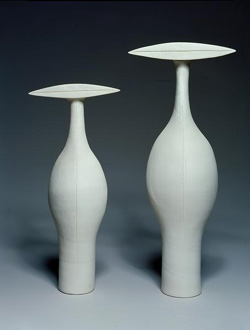 Ruth Duckworth also fuses the body and landscape in her ceramic sculpture and vessels, while incorporating themes of division and opposition by cleaving or slicing into forms. "It is useful to regard Duckworth's biomorphic and abstract forms as inseparable from earth, much like the clay from which they are made. They are drawn, she says, from the most fundamental and organic impulses of the imagination," state Thea Burger and Kim Coventry in their article for Ceramics: Art and Perception.
Describing Duckworth's 2005 retrospective at the Cranbrook Art Museum, Nick Sousanis wrote, "The majority of her works have the quality of being vessels - considering the relationship between what is on the inside and what is on the outside...Simultaneously they are sculptural objects, and as such are representations of the body in space. This speaks to the condition of being human - Duckworth captures our outsides and our insides - the body both as physical, sensual object and as vessel - a container of thoughts and emotions."
Bellas Artes, as well, has always been "a container of thoughts and emotions" — a private sanctuary for Santa Fe residents, and artists and collectors from around the world. During this anniversary exhibition, the gallery will become a place to reflect, contemplate and viscerally feel the pulse of the earth.