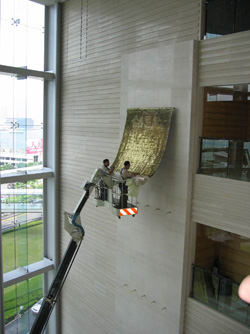 Installation of one of three Olga de Amaral tapestries at the Four Seasons Hotel, Hong Kong
September 2005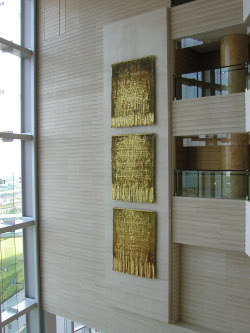 Completed installation
Olga de Amaral article in Trend Magazine
Installation at Four Seasons Hotel, Hong Kong
Colombian artist Olga de Amaral sculpts space and form with light. She has created architectural tapestries, realizing her dream to "turn textiles into golden surfaces of light." By using woven elements of linen painted with gesso and earth toned pigments, as well as gold or silver leaf, the artist overlaps, weaves and twists strands of these fibers to bring forth the interplay of darkness and light. Her process establishes rich terrains of mood and emotion that evoke not only the intimacy of personal experience, but also the associations to a vaster realm outside of ourselves - the Colombian landscape mingled with its native architecture, pre-Columbian textiles, Indian basketry, gold artifacts, ornamentation of colonial Catholic Churches, and abstract geometries.
Over the past 10 years, major exhibitions of de Amaral's work have been held in museums in Colombia, Argentina, Peru, Japan, Germany, France and the United States. Her work is included in the collections of The Metropolitan Museum of Art — where she recently gave a lecture on her work, the Museum of Modern Art, and the Museum of Art and Design in New York, The Art Institute of Chicago, the Musée d'Art Moderne de la Ville in Paris and the National Museum of Modern Art in Tokyo.
2005 has been an important year for the artist. She has been selected as a 2005 Artist Visionary! by the Museum of Art and Design in New York. This award celebrates de Amaral's commitment to the highest artistic standards and recognizes how she "seamlessly integrates art, craft and design through engagement with both materials and process."
The Belem Cultural Center in Lisbon is currently presenting an exhibition of the artist's work. In September, de Amaral completed a large commission for the Four Seasons Hotel in Hong Kong. The three large 10'H x 8'W tapestries have been installed vertically on a marble wall in the atrium.
de Amaral has been represented by Bellas Artes since 1986. The gallery is pleased to announce a twentieth anniversary exhibition of her work in the summer of 2006.